As part of MusicAIRE, with co-financing from the European Union, Listen Local has been launched in Lithuania by Music Export Fund in collaboration with the data scientists at Reprex.
The Listen Local Lithuania project has started to collect detailed data about local artists and their presence online. A prototype Listen Local Lithuania database is being built to test the possibilities opened up by having far more detailed information about an artist's activity, location and locality, their various connections around the world and their ambitions for the future.
Independent musicians and labels need to compete against large corporations who can afford to employ teams of data scientists to give their artists the advantage in a marketplace increasingly driven by algorithms and artificial intelligence.
Without detailed, trustworthy and accessible metadata, an artist's work gets ignored by automated database systems, deprioritised and forgotten, regardless of the quality and creativeness of the actual recording.
Even if an artist's work gets played, without complete and accurate metadata there is very little chance the artist will get paid, because the vast mess of automated systems across the world simply won't know where to find the recipient.
If an artist thinks they are owed more money they have no way to prove it, because there is no trail of data available to analyse and they have no team of metadata specialists to help them.
The unpaid money eventually ends up in the bank accounts of the companies that have the most data scientists and the most resources to influence streaming platforms and governments. This injustice is stifling innovation and restricting independent musicians' ability to enter the market.
All this means that independent artists urgently need their own team of data scientists to fight on their side, and that is why the Listen Local project was created. Listen Local is a database system designed to empower independent musicians to examine, expand and clean up their metadata easily and affordably, allowing them to increase their reach dramatically and fight for fair payment effectively.
This is especially important in smaller countries, countries where English is not the main language and countries where database systems are less advanced and falling behind international standards. For example: Lithuania.
The Listen Local analysis team will be looking at data collected in Lithuania and producing individual reports for artists to learn how to improve their presence online and increase their chances of getting played. Artists' profiles will also be converted to the latest semantic web standards and published in an open and accessible format for any automated system to read.
Listen Local Lithuania launch event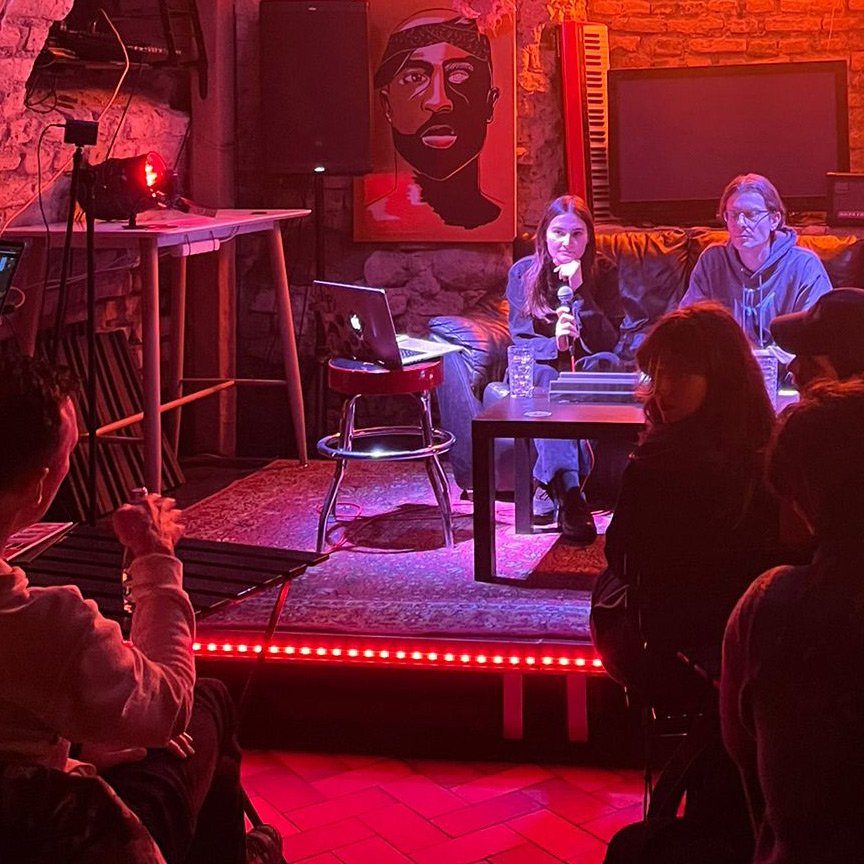 The Listen Local Lithuania project launched in public at Flow Bar in Vilnius, Lithuania on Tuesday 14th March. The event was attended by more than thirty independent musicians and managers, a representative of the neighbouring rights association AGATA and an independent music distributor. Project managers Mark Adam Harold and Gabija Liaugminaitė explained the data collection mission and recruited seven artists who completed the full survey. Several label owners and managers also joined the initiative and will add data on behalf of all their artists.
As a result of the huge interest in the project, and the visible post-covid enthusiasm for meeting in real life, Music Export Fund has decided to program a regular series of discussions to bring independent musicians and professionals together for professionalisation workshops and networking.
The prototype of Listen Local Lithuania will be finished this spring and will then be developed into a metadata management service for Lithuania, the EU and friends like Ukraine. For more information follow the Listen Local website and join the Music Export Fund newsletter.

MusicAIRE | Music Moves Europe
Co-funded by the European Union. Views and opinions expressed are however those of the author(s) only and do not necessarily reflect those of the European Union and therefore the European Union cannot be held responsible for them.